Autovista Group is the UK's leading source of automotive data, insight and intelligence and their Glass's guide print publication which has been around for more than 80 years. The Glass's print guide was published as a monthly publication with over 1,500 pages of automotive valuations packaged into a small pocket-sized book.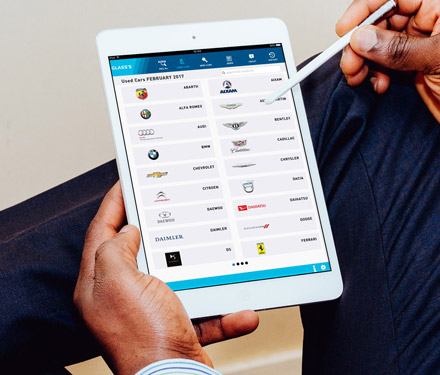 The challenge
The rising costs of print and distribution, combined with increasing amounts of complex data being published each month provided a genuine requirement to publish the data to customers as quickly as possible. Glass's needed a solution that would enable rapid migration of print to digital assets - whilst significantly reducing the costs of production and distribution.
The publishing solution
Better than Paper's publishing platform enabled Glass's to rapidly migrate significantly higher volumes of automotive data to mobile and tablet devices – all in real-time. The platform's technology achieves this by compressing high volumes of data which can then be accessed offline on mobile devices, with secure log-in authentication for paying customers only.
With search functionality and simple data visualisation, Better than Paper's solution allows Glass's customers to quickly access the latest data - wherever they are. Current automotive news content from the web and social channels can be filtered - to make the data more contextual and relevant. Other features also include advertising integration and push notifications to alert customers that new data is available.
EurotaxGlass has worked in partnership with Better than Paper to help deliver transformative change in the way the business delivers content and data to our customers. Better than Paper delivered a complex IT project both on time and on budget. Their technology has delivered considerable costing savings in both production and distribution and has accelerated our transition from print to mobile in an impressively short timeframe. Their agile and collaborative approach allows them to work efficiently and successfully within our matrix organisation. I would recommend Better than Paper to any organisation looking to accelerate their digital publishing transition.

Martin Stewart, CEO, EurotaxGlass's Group
It would be great to talk with you about your content publishing needs, please contact the team to set up a call.
Get in touch
Case study PDF